At the Opening ceremony of the Dehloran desalting unit project, Bijan Zanganeh, oil minister, pointed out the special situation in the border and said: some great actions has been done in operation of west oil and gas fields and hopefully this trend would be carried out in the future.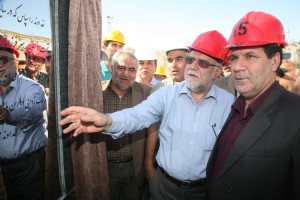 He emphasized on the importance of associated gas gathering in these regions and continued: not only gathering and reuse of these gases helps protection of the environment but also it will be useful for industrial and economic growth and prosperity in these areas.
Dehloran desalting unit was operated in order to eliminate the associated salt from Dehloran and Danan fields. Dehloran oil field is one of the operational regions under West Oil and Gas Production Company (one of the three ICOFC subsidiaries). Production and transfer of 15 thousand barrels per day from Danan field and 40 thousand barrels per day from Dehloran oil field, to Dehloran desalting unit has been predicted.