Daily production climbed to highest since end of November 2011
Exports rose more than 40% from March to 2 million barrels/day
In an interview with IRIB News Agency, Managing director of National Iranian Oil Company announced that Iran has reached to pre-sanction level of crude oil production and export. Roknodin Javadi said: during the last month (30th Mar-30 Apr) country's crude oil export has increased to more than 2 million bpd besides we are experiencing a significant rise in crude oil production and in near future we will reach the level of 3 million and 800 thousand bpd.
he pointed out the gas condensate export amount and stated: before the sanctions, we exported 250 thousand barrels per day but now it has escalated to 450 thousand bpd and expectantly this number will increase by development of South Pars gas field.
It is worthy to mention that by launch of phases 20 and 21 this year, the production of south pars will grow 50 million cubic meters, in this regard and as one of the Oil Industries Engineering and Construction Group subsidiaries, Oil and Energy Industries Development (OEID) performs the Construction of Gas Trains 3 and 4 and condensate storage tanks with 240 million cubic meters.
Furthermore Bloomberg quoted that Iranian crude production rose to levels last seen before sanctions were imposed more than four years ago, helping to drive OPEC output to the highest in almost eight years, according to the International Energy Agency.
Iran pumped 3.56 million barrels a day last month, a rate last reached in November 2011 before trade restrictions were imposed over the country's nuclear program, the IEA said Thursday. Exports soared more than 40 percent to 2 million barrels a day — near pre-sanctions levels — as the nation worked to regain lost market share.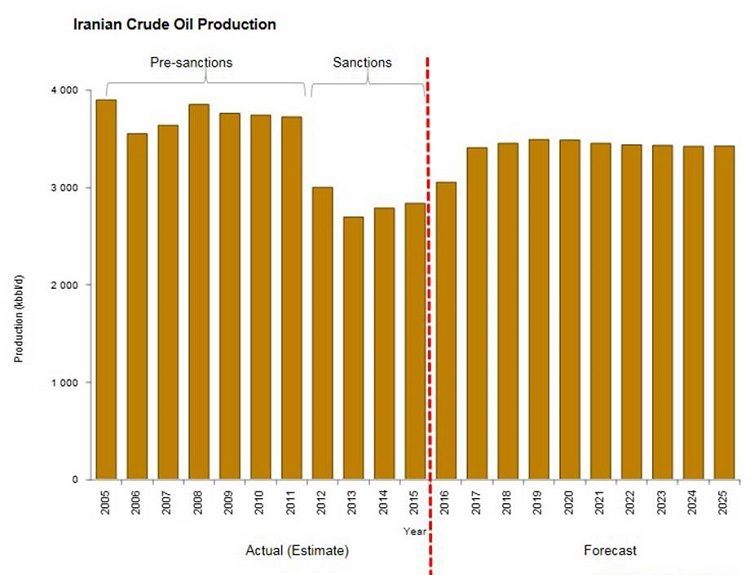 While Iraq and the United Arab Emirates also boosted output, Iran's addition of 300,000 barrels a day was the key contributor to OPEC's production gain to 32.76 million barrels a day, the highest since August 2008.
Iran's exports jumped by around 600,000 barrels from March, "with China buying big and Europe loading substantially more," the IEA said in its monthly report. Some of the increase "may have been due to loadings that spilled over from March" and it's unclear how much is being drawn from storage on Kharg Island, Iran's biggest export terminal, the agency said.
Leading Buyers
China was the biggest buyer of Iranian crude in April, lifting more than 800,000 barrels a day, a 57 percent gain from March, according to the IEA. Purchasers in Europe loaded roughly 500,000 barrels a day, more than double the previous month, with Total SA and Tupras Turkiye Petrol Rafinerileri AS leading the orders. Clients in Europe bought about 600,000 barrels a day before sanctions were tightened in mid-2012.
Iran was the Organization of Petroleum Exporting Countries' second-biggest producer before sanctions were stepped up.